Janet Anderson
Western Pennsylvania Golf Hall of Fame
Class of 2022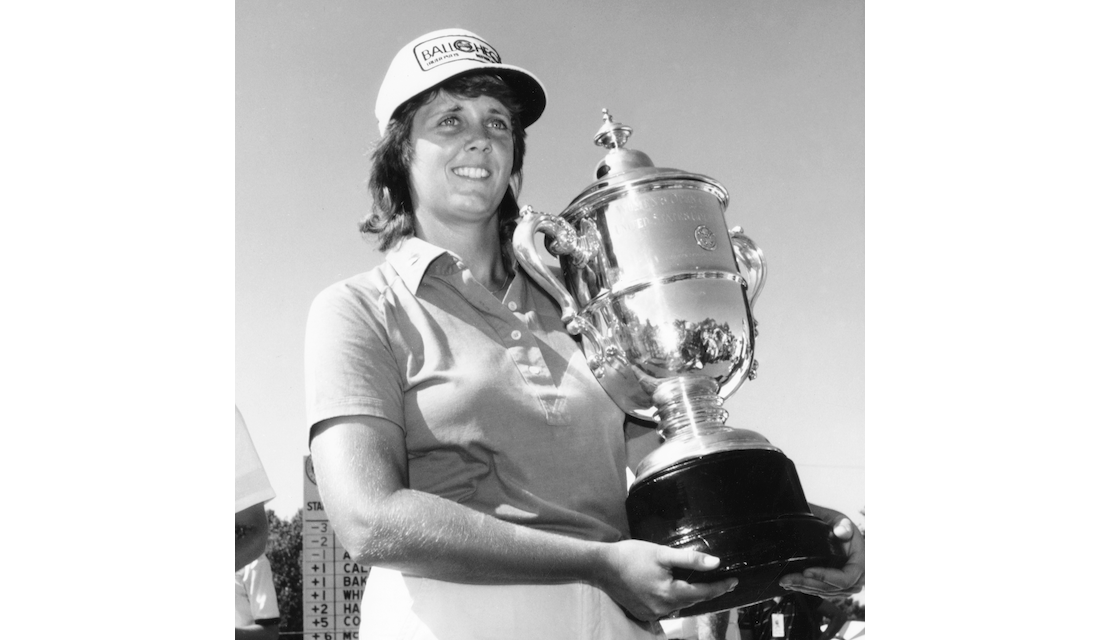 Photo courtesy of the United States Golf Association
Inducted Thursday, November 3, 2022 at Allegheny Country Club
---
Janet Anderson has her name on a special list in the world of golf.
She is a U.S. Women's Open champion.
In 1982, Anderson came to Del Paso Country Club in Sacramento, California as a good player but not one thought to be a strong candidate for the Women's Open title. After all Anderson was surrounded by women's golf superstars like JoAnne Carner and Beth Daniel to name just two.
At the time, she was 26 years old, a native of West Sunbury, which is just north of Butler. She could play, as evidenced by making it to the quarterfinals of the 1977 U.S. Amateur and she was named LPGA Rookie of the Year by Golf Digest.
She made headlines just over a month before the Women's Open by finishing fourth in the PGA Championship.
"I was playing well for sure," Anderson said. "And I was very calm during Open week. It was a wonderful week all in all."
She posted rounds of 70-73-72-68 for a 283 total and a 6-shot victory over Carner, Daniel, Sandra Haynie and Donna White.
As with any golfer, winning a huge tournament like a national Open is a pinnacle moment in Anderson's career. Not far behind that moment, however, is her induction into the Western Pennsylvania Golf Association Hall of Fame.
"It doesn't get any better than that," Anderson said. "It was totally unexpected and very surprising. I am greatly honored for sure."
Anderson wasn't all that much of a scoreboard-watcher but knew she was playing well as she approached the 72nd hole.
"JoAnne met me as I made my way to the tee, but she told me I was leading by five shots at that point," Anderson said. "She told me there was no pressure to win, just go play the hole. My hands were shaking so bad. I took the club back and actually made contact with one hand. The shot was fine, right down the middle. That's all I needed. I knew I could make 6 from there and still win. It was a great feeling."
She was a winner by six strokes and the only one to finish in red figures. Anderson's winner's check was $27,315.
While she registered 42 top-10 finishes on the LPGA Tour, she didn't post another pro win until she retired in 1997.
"In the winter of 1998, I was living in Phoenix, and I just woke up one day and said, 'I'm done. I don't want to do this anymore. But what am I going to do now?'"
The fates played a role in how things would go for Anderson as she made her way in her post-playing career. She took on the role of teacher in a Junior Program in the Phoenix area and loved it, but she wasn't sure she wanted to do that forever.
Anderson applied for a position with a new course, Aguila Golf Course, in suburban Phoenix and was hired. In six months, she moved up to the golf professional.
It took a torn ligament in her wrist to sideline her for good, causing her to give up the game because the game was too difficult and painful. So, she did what every golfer would do when an injury took the game away from them.
Anderson took up bowling.
"As a kid I bowled a lot with my dad and I really enjoy it," she said. "I have about a 155 average. I like it a lot."
Her induction into the Hall of Fame brought back to mind her past, something she doesn't often spend much time doing.
"It really is so interesting because I really don't think much about the past," she said. "But this is such an honor. To be part of this awesome family of great folks, well, I'm very humbled."
About the WPGA
Founded in 1899, the Western Pennsylvania Golf Association is the steward of amateur golf in the region. Started by five Member Clubs, the association now has nearly 200 Member Clubs and 33,000 members. The WPGA conducts 14 individual competitions and 10 team events, and administers the WPGA Scholarship Fund.