Lew Worsham
Western Pennsylvania Golf Hall of Fame
Class of 2013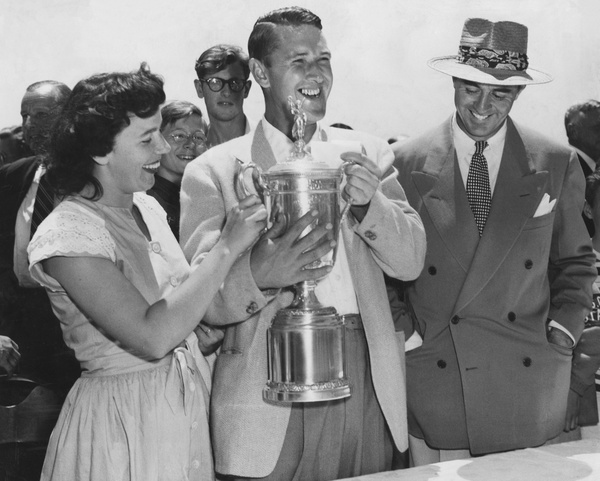 Lew Worsham after winning the 1947 U.S. Open Championship
Inducted Thursday, September 26, 2013 at Oakmont Country Club
---
A native Virginian, Lew Worsham left Burning Tree Country Club near Washington, D.C., to accept the head professional's job at Oakmont in 1947 with the understanding that he could compete in the upcoming U.S. Open at St. Louis Country Club. After four rounds, Worsham and Sam Snead were ties at 282. In a thrilling playoff, Worsham beat Snead, 69-70, the title decided o the last green when Snead missed a short putt and Worsham holed his. Playing on the 19478 Ryder Cup team, Worsham went undefeated. He also won the 1953 Tam O'Shanter Open in Chicago, one of golf's first televised events, in which he holed a wedge from the fairway on the final hole. His winner's check of $25,000 made him the PGA Tour's leading money winner that season.
While working at Oakmont from 1947 to 1979, Worsham occasionally played the Tour, winning five titles. He was a regular contender in major championships, recording three top-10s in The Masters and U.S. Open, while reaching the quarterfinals or better three times in the PGA Championship. His local titles include West Penn Opens in 1953, 1956, and 1958; the Tri-State PGA Section in 1961; and runner-up in the 1957 Pennsylvania Open. He also set the course record of 63 at Oakmont in 1961.
About the WPGA
Founded in 1899, the Western Pennsylvania Golf Association is the steward of amateur golf in the region. Started by five Member Clubs, the association now has nearly 200 Member Clubs and 33,000 members. The WPGA conducts 14 individual competitions and 10 team events, and administers the WPGA Scholarship Fund.